One of the benefits of using a pay per head software is having the tools that can simplify your sportsbook operation. The software will not just help you track bets, but also has other features, like helping you with line management, player management, tracking and more. Today, we will be talking about player activity in bookie reports. Being able to monitor your players' activity in your sportsbook will give you insight on what you are earning for each player you have. Not only that, but you can also use the data to help you plan in how you can increase activity and profit in your sportsbook.
Player Activity in Your Bookie Reports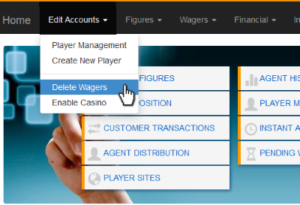 With the best bookie software, there are different ways that you can access or view your players' profiles and activity. There is a general management report where you can view a masterlist of all your players, together with wagering activity. You can adjust any report to fit certain requirements you may have, such as the period covered, for instance.
You can also customize your report to view things such as current wagers from your active players. In addition, you can even filter the results to view them by wager type, by player, or even by sport. This will allow you to see which sports are popular among your players, and the types of wagers they tend to go for.
You can also look at your players' activities- previous wagers, amount, date, outcome, and more. For example, you can generate a report of Player A's data, and you will be able to see your player's credit limit, current wagers for a specific week, amount wagered per bet, current wagers, amount won and lost.
Player Information
If you chose to become a bookie through a really good pay per head provider, chances are you also have a racebook and an online casino. You can also pull the data of your players from each platform and view them without having to log out and log in through multiple sites.
Lastly, you can also be able to see how much revenue you are generating form each player, each week, or each sport. These reports are also displayed in a very easy to understand format. All you need to do is go to your account, and head on over to the report management system section. From there, you can select the parameters that you want the software to generate for you. And just like that, you have the information that you need to help you become a better bookie.