The NBA is getting a lot of attention the past few weeks, for different reasons. But one of the top discussed subjects, especially for sports betting fans, are the chances of their favorite teams to get into the NBA Championship. Back in May, the Golden State Warriors were the top favorite in most sportsbooks at +175, which is around a 36% chance they will win the season. Even the New York Knicks had high odds at +1,600, tied at 6th best title odds with the Clippers.
But what you have seen in the previous months are drastically different. If you take a look at your official NBA bookie odds, you will see what we mean. But why are the numbers so different?
NBA Championship Favorites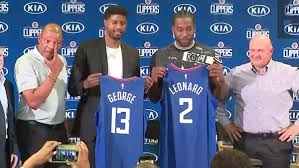 We at Easy Pay Per Head Blog have been keeping tabs of the various roster changes that have happened in the last few months. This is, after all, the main reason lines have been changing, especially since the games did not start until this week. Klay Thompson tore his ACL, Durant has an Achilles injury, which was a big blow to the Warriors. Leonard flew from Toronto to LA to join the Clippers, alongside Pau Goerge. The Knicks missed out on a top pick at the NBA draft, had abysmal player acquisitions. They now sit at odds of +100,000. Just in case you are wondering, it's one of the worst in the league.
Now that the dust has settled, we now have a new set of top favorites in the league. To be a bookie pay per head, you will need to check back and adjust your lines to make sure you have the best odds. While the ones we have now are current, they may change anytime, especially now that the season has officially started.
The Clippers are the favorite to win at +350 (this gives an implied probability of 22%, which is pretty low compared to other top favorites over the years). The LA Lakers are still on the top with +400 (20%). The Milwaukee Bucks are at third with +600 (14%), then the Rockets and 76ers are tied at 4th with +800 (11%). The Warriors are down to fifth place at +1200 (8%). The Jazz and the Nuggets follow at +1600 (6%), while the Celtics are at +2500 (4%).