The futures betting lines for the NBA gains more attention every day. As we are in the second week of the regular season, wagers on who will win the championship, and who will be the MVP are two of the most popular betting options we see in our bookie software. So who will win the Maurice Podoloff trophy? Check out our NBA MVP Predictions to get an idea on what the odds are for the top stars in the NBA.
NBA MVP Selection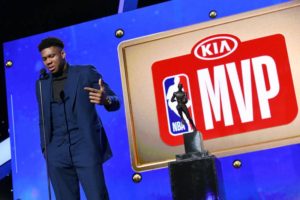 Before we move on to the odds, its important to know exactly how the MVP award is decided on. The award will actually not come from scores and stats (although it will be a big factor, of course). The people who will get to vote on this are from a panel formed by broadcasters and sportswriters around the world. Each member will be voting for 1st to 5th place. Each place will have corresponding points. Once it is all totaled, the player with the highest points will win the award.
Scoring gives 10 points for 1st place, 7 points for 2nd place, 5 points for 3rd place, 3 points for 4th place, and 1 point for the 5th place. There are over 130 people who will vote for the award. The fans also get to place a vote online, but votes will count as one ballot. As much as sports knowledge is important, it is absolutely crucial to know the selection process, especially if you want to learn how to be a bookie.
NBA MVP Predictions
Giannis Antetokounmpo comes up as one of the top names, as fans are optimistic he can get a two-time MVP feat. His implied probability is at 26.39% at 3.790. Stephen Curry is another name at 6.100. His numbers might change anytime, as news of Curry's injury is spreading like wildfire. James Harden, meanwhile, joins the list at 8.050. Anthony Davis is at 9.300, which could happen if LeBron James will give him the chance to shine on the offense. Of course, Kawhi Leonard makes the list, especially after a Championship win last season. Leonard is at 12.950.
Of course, there are a lot of names on this list, even for rookies like Zion Williamson. If you think it is pretty hard to keep track of the names and the changing odds, a good pay per head solution will most definitely keep everything organized and your wagers secure and tracked.