Many PayPerHead analysts wonder how the NFL can pull of a season with the least amount of delays due to the Coronavirus. Sure, the NBA is doing this successfully, but football is a totally different game. The roster size alone, plus the physicality of the game can make it riskier for transmission and outbreaks. Which is why the NFL is serious about Covid safety measures. So serious, that league officials are threatening suspensions, as well as draft-pick forfeitures.
Many sportsbook pay per head provider are already ready for the NFL. As we are into Week 4, we are now seeing the impact of the policies of the league. The NFL is sending out its second memo already. They are urging all teams to comply with game-day protocols. Mask wearing, is part of the protocols.
NFL is Serious About Covid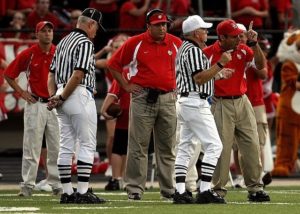 The memo comes after a report of Las Vegas Raiders who attended a charity event without wearing masks. The same team's coach was fined by the NFL for not complying with the rule to wear masks in the sidelines. The league is now threatening to suspend coaches, as well as take out draft-pick options for teams who will still not comply.
The strictness of the league also comes after the Pittsburgh Steelers' Sunday game will be postponed. The Tennessee Titans also have players who have tested positive for the Coronavirus. Naturally, teams who have faced the Titans are concerned.
NFL Season Future
So far, the NFL is trying to avoid what industry leaders are seeing in bookie pay per head blog reports: a repeat of the MLB season where games were being cancelled left and right. Mask wearing may sound simple, but it's the basic protocol to ensure that everyone stays healthy. Testing and social distancing will also go a long way in ensuring minimal disruptions in the schedule. Which, of course, would ensure a profitable football season for bookies everywhere.